Information
2014年10月11日
[:ja]喫茶茶会記 坂田明サロン などPak Yan Lauとの共演!![:]
[:ja]ベルギー在住の女性ミュージシャンPak Yan Lau(prepared piano,toy piano etc.)
が来日します。私を知らない人の数よりも、もっと知らない人の数は多いと思います。
でも、最初は誰も知らないのです。何かのきっかけで知って喜んだり、あれこれします。
実は彼女のパートナーはGiovanni de Domenicoです。(今年"iruman"、"live at cafe OTO"
とCDは2枚出てました。)12月4日吉祥寺FoxHallにて坂田明、山本達久と、12月7日午後15:00~喫茶茶会記にて坂田明サロンのゲスト、12月8日両国門店ホールでさかたあきら、山本達久という仕組みになっています。新しい世界へ行ってみませんか?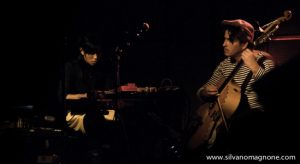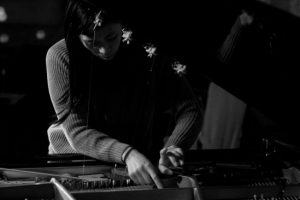 After her piano studies in Belgium and Portugal, Pak Yan's musical interests made a shift towards free improvisation and sound/noise related music. Her love for curious sounding objects, her obsession for toys and her fetish for toypiano's made it into a toy band called 'The Crappy Mini Band'. Other explorations found an output in 'Kuruwasan' (impro/jazz quartet).
Nowadays she is primarily working on her solo project (for prepared piano/synths/toypiano's), her groove/trance project 'Going' and her minimal trio 'lauroshilau'.
Her music spans different horizons, with improvisation and sound as main focus. Taking the extraordinary out of the ordinary and creating little sound-mosaics in a minimal, poetic way, while exploring the vast spectrum of sonar possibility is the best way to describe her path.
Besides, she also makes music for dance-theatre productions ('Gadgetland' with Lazara Rosell Albear, R.U.T.H. from Marjolein Elsink, 'Appeau' Cie La Zampa), shadow theatre (The Fabulous Choi Sisters), documentary ('News From Nowhere' by Christoph Van Collie) and children theatre Tweelicht & Zoon (production 'SAAI').
Toured Europe and Japan, and shared stages with musicians such as Paolo Angeli, Lynn Cassiers, João Lobo, Nico Roig, Eric Thielemans, Chris Corsano, Yuko Oshima, Andrea Parkins, Mathieu Calleja, Lazara Rosell Albear, Mathieu Ha, Tatsuhisa Yamamoto, Norberto Lobo, Daysuke Takaoka, Gregoire Tirtiaux, Audrey Lauro, Mori-Shige, Giovanni Di Domenico, Manja Ristic, Peter Jacquemyn and many more…
http://pakyanlau.com/[:]